This is a non-technical article, written for business owners. It is about how to choose the right website developer or web designer, freelancer, or web design company, for your website project. This article takes an inside look at a business owner's experience and the lessons learned. It has a significant influence on choosing the correct web development company.
Kerryn's website development project.
Kerryn Martorana runs a small but profitable coaching business called Lifeology. At that time, she had 2 employees. She appreciated the need for a website as part of branding and marketing. Many businesses, big and small, have websites. That must be social proof that a website is important.
But there are challenges. For a start, Kerryn is not IT savvy. In her previous corporate position, they had an email address using the company's domain name. They had a website plus an IT team to support and maintain. But now, she is on her own. It is a small business. She is clueless about setting up a website, the behind-the-scenes technology, and confusing technical jargon. She recognizes the need for a technology partner.
Can you relate to her situation?
The reasons for having a website
Kerryn wants to build a small business website. Most people are unclear as to why they want a website. Kerryn is very clear.
This would be an online presence, where people can find out more about the business offering and company.
The website would generate leads. She wants people to call her about the offered services.
Do For You (DFY) or Do It Yourself (DIY) Options
If you research, you would find 3 common phrases – web design company, web development company, and website builder platform. Broadly speaking, they are different (yes, this is an over-generalization but bear with me).
A web design company has web designers. A web designer is a combination of an artist and a website developer. They focus on web design more than functionality.
A web development company has web developers. A web developer builds web applications. They build systems that accept credit cards or accept online payments. They build application programming interfaces APIs.
A website builder platform is an online service. They provide tools and services like a drag drop website builder, a free eCommerce website builder, website hosting, and even email services. The builder is a very intuitive and easy-to-use tool. With a few clicks, you can accept credit cards and accept online payments. Essentially, YOU become the web designer and website developer. 
A web design company and web development company provide a Do For You (DFY) service. The website builder platform (with the fancy drag drop website builder) is a Do It Yourself (DIY) service.
Kerryn knew she needed a DFY service.
Kerryn's Choice
Kerryn uses Google Workspace for email services. She subscribes through a Google partner, a systems integrator, who happens to also build websites. They also call themselves a web development company. They are certified Google Partners.
Kerryn has been using their services for more than a year and they seem quite reliable. Surely, they must know a thing or two about search engines and getting the website shown on the search results.
Moreover, their price was within her budget. So a website developer was hired.
Initial feedback.
When the site was unveiled, Kerryn showed it to her staff, friends, and family. Everybody was excited and gave their compliments, "It's a beautiful website". They were genuine feedback.
Time would tell if the website fulfills the objectives.
Measuring against objectives.
The website is up and running. She needs to give search engines, like Google search, time to index the site.
The developer installed Google Analytics to track website traffic. Initially, the visitors were all unique visitors, presumably friends. So the bounce rate was acceptably low. After a week, website traffic began to dip down. Somedays, there would be no visitors.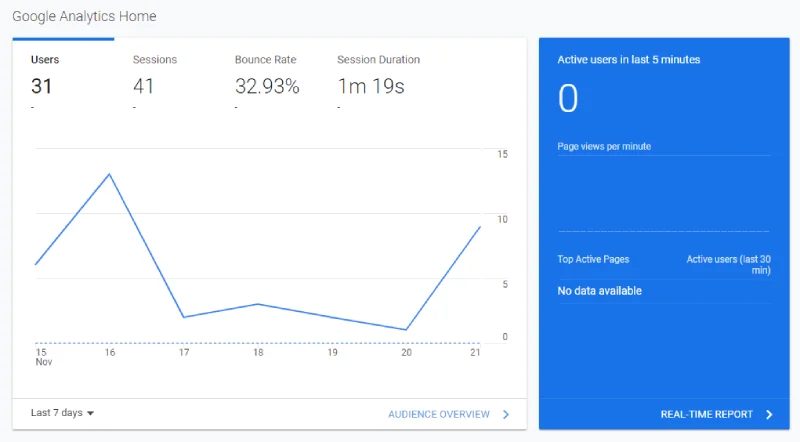 Weeks past. But it didn't take long to realize that the website had not fully gone accordingly to plan. It was not a bad website. The web design and visual appeal look quite inspiring. It was a responsive design (i.e. works on the mobile phone too). The load time was quite fast. In all fairness, it was a quality website. But it doesn't generate business leads.
Reality check.
There is a difference between hiring a developer, as opposed to a designer or even a copywriter.
Developers create speedy and highly functional websites. It typically doesn't look overly stylish. It is good enough.
Website designers focus on good web design. A website designer creates beautiful works of art. They are delightful to view but often slower to load. The aesthetic appeal soon fades.
Could it be that the website was not conveying the business' proposition effectively? There is no offer made. A call to action in itself is not an offer. Simply put, an offer is asking "would you like to buy this?". Only then, it is followed by the call to action. Oftentimes, you'd sweeten the offer with bonuses or guarantees. The website had a call to action but no offer.
So should Kerryn have hired a copywriter too?
Our Perspective
Firstly, let me assume that you are a business owner. That is why you are reading this.
You should only think of hiring a website designer, website developer, or even a copywriter after you have considered the following.
1. Articulating your business offers & propositions
Consider the below axiom – A website project must start with articulating your business offer.
Why do I start with articulating your business offer? Three reasons:
We sell products and services with words by conveying the proposition or offer.
Owners understand their propositions and offerings. You might not say it eloquently, but you know the business inside out.
The website needs to reflect the proposition or offer. You need to convey it to the person or company developing your website. They need to describe it with clarity and conciseness.
Most business owners struggle to convey the offer or proposition. If you find it hard, consider the following:
What is your offer? What products or services is your business offering?
How do you offer your product or service? What makes it so compelling that it makes the prospect look silly to ignore?
Who are your competitors? Why should I buy from you and not your competitors?
Most leads need to warm up. They do not buy on first visits. What can you give for free in exchange for their emails so you can keep in touch (i.e. that's your lead)?
Advice #1 – If you struggle with articulating your business, then choose a company that will also guide you in creating your offer. This is crucial. The company will need to spend time understanding your business.
2. Establish the purpose of your website
Why do you want a website? Allow me to paraphrase it. What do you want the website to do for your business?
Types of websites.
We broadly categorize websites into 3 types:
Online brochures.
A website can be an online brochure. The purpose of a brochure is to introduce the company, its products, and services, and inform the prospective customer of the competitive benefits. For instance, an accounting firm brochure describes the firm's services, the benefits over competitors, and contact information. Like a physical brochure, the information on the online brochure does not change a lot.
We believe a brochure is a sales tool. Not all business owners agree. Some think a brochure should only introduce the company. We beg to differ. We use brochures when we meet prospective customers. Hence, it is a sales tool. In other words, the focus must be on the products and services and not the company. A sales adage describes, "people don't care until they know you care". This means they want to know how your product/service can solve their problem first. Thereafter, they want to find out more about your company and credibility.
Lead generators.
A website can also be a lead generator. Think of this as a promotional flyer. A good flyer has a targeted audience in mind. The catchphrase is designed to draw attention and make an offer that is hard to refuse. If it is enticing, then they read the rest. In the end, an offer is made and the prospective customer is told how to buy.
Unlike a brochure, a flyer has little paper space. So they focus solely on the product or service offering. The company name is almost neglected except to show the address. 
A more significant difference is a flyer makes an offer. It asks for your response to the offer (i.e. it has a call to action).
A lead-generating website offers a paid product or service, i.e. asks to buy the product or service. Most people will decline on their first visit. So the website also provides a free offer in exchange for contact details, like an email address. That is how you generate leads.
Online shop.
Finally, a website can be an online shop. Like a physical shop, you need to lay out your products so it is easy to browse and see their features and price. An online web store can also accept online payments.
Reality checks
Most people want a website that is both an online brochure and a lead generator. They want to let people know about their products/services and company, and they want inquiries to come in from the website.
Creating a website or brochure or flyer is like writing an essay. Crafting the correct message is an iterative process. You always have multiple versions. Changes in subsequent versions get more intricate – smaller and fewer. Then you put it out. If the response is poor, you go back to the drawing board and revise. This means your website should not be a one-time project. It is an ongoing effort.
Back to the question, why do you want a website? What do you want it to do for your business?
Advice #2 – Hire a web development company that would make a partner. A good website is a journey. It is good to have a dependable and knowledgeable partner.
3. Determine the skill sets required
Building a good website requires 3 essential skills – programming, designing, and copywriting.
Copywriters
Amongst the three, copywriting is often seen as the least important. Yet, you cannot sell without conveying ideas and needs. The most effective way to communicate is to use words.
Most of us are quite competent in a language. We assume it is sufficient to write a copy. Copywriting is not writing. Writing the text, or copy, used in marketing and promotional materials is a different skill. They create text that can encourage audiences to click, open, or learn more, with enticing words. They write in a way that speaks to the emotions, for the decision to buy is emotional.
Web Designers vs. Website Developers
Let's assume that you will hire web designers or a web development company. You will find that many web designers have some competency in website programming, e.g. HTML or CSS. Furthermore, there are tools like a free eCommerce website builder to create beautiful online shops. So, web designers can develop websites.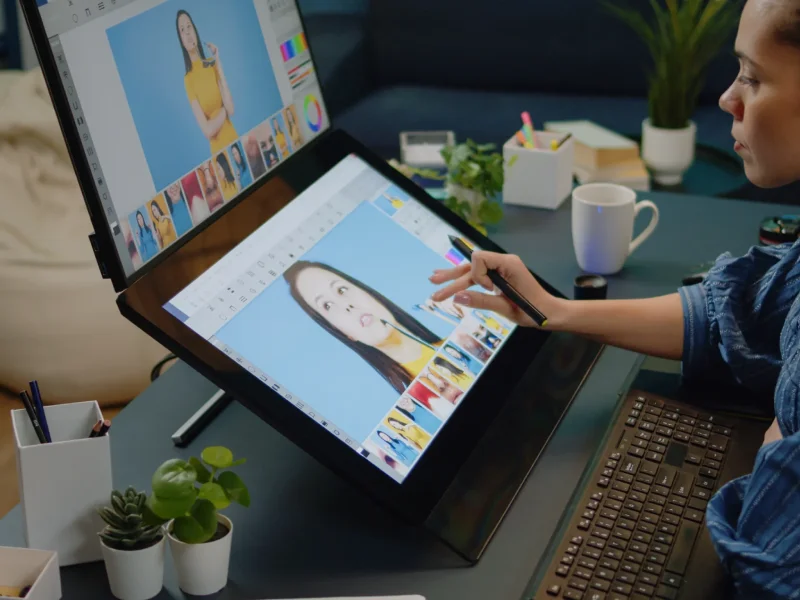 Conversely, a web developer can also be familiar with design principles, e.g. color wheel and selection, typography, etc. There are also website templates to draw inspiration and ideas. You do need lots of practice and study to create beautiful works of art. But, it is not difficult to create a good enough web design. A website developer can create sufficiently elegant designs.
The ideal web development company
The ideal company needs to have the following:
Website designer, website developer, and copywriter. It can be one person with all 3 skills or 3 different people.
Business acumen and execution process to understand your business, and the proposition or offer.
Ability to employ a variety of online digital marketing strategies. This is much more than just Google Ads or Facebook Ads, setting up an online community, email list, content marketing, etc. The strategy varies depending on the business, the offer, and the target audience (i.e. persona). It starts with understanding your business.
Technical competencies in web hosting, domain names, domain name server configurations, and SSL certificates.
Understanding of Search Engine Optimization (SEO) and how it impacts the Search Engine Result Page (SERP).
Your contribution
We recommend the involvement of the business owner. You, a business owner, may not be a web developer, website designer, or word-smith. But, you can find inspiration from the internet for your designs. You can also get ideas to craft your message from a competitor's or other websites. In other words, with sufficient research and preparation, you can provide meaningful direction to the website project. The more website details you can provide, the easier it will be to work with the web development company. Also, the better you will be able to critique the developer's, designer's, and copywriter's work.
Advice #3 – Hire a web development company based on the needed skill sets. Price should not be the key consideration. Hiring the wrong company is more expensive.
The ideal approach.
Research and preparation.
There should be adequate research. A good website developer spends about 50% of the project time on research and fact-finding. They try to get to know your company by
Filling up a standard questionnaire before meeting up with you.
Interviewing you, the business owner, and your team, especially the sales team.
Researching your competitor and how they position their products/services.
Gather all available information on your company, e.g. brochures, pamphlets, and write-ups.
Hold consultation workshops to help position your products and craft offers.
Project management is important. This is more than just making sure milestones are fulfilled in a timely fashion. It is to be the intermediary. This has to be someone that understands business, especially your business offer, knows what is needed to have a good website, and how to market it. Then it needs to be conveyed to the technical team.
Based on your website objectives and requirements, the website development company should
Prepare a strategy to meet the objectives and requirements.
Present the strategy and help you understand what to expect.
Define the appropriate measures for the progress.
Prepare the copywriting before developing the web page.
Prepare website mockups before delivering the web page.
Solicit your approval at each stage of the development process.
Technology selection.
We are quite familiar with a variety of website technologies and take the following approach to technology selection.
A website development company should be able to build from scratch, use a content management system (CMS), or even use website builder platforms (e.g. Shopify, Squarespace, or Wix). The choice of technology must be largely based on your requirements, longevity, and capabilities.
Most companies do not have a resident website developer or designer. We typically recommend building a WordPress website. WordPress is an open-source CMS. It is free to use.
A WordPress website is a lot easier than building from scratch but a bit more technical than a website builder platform. This is the sweet spot between the ease of adding content and building sophisticated functionalities. It has millions of plug-ins to add additional functionalities. The Post (i.e. document) editor is even easier to use than Microsoft Word.
Finally, most websites are WordPress websites. That means if the website development company (like us) does not meet up to the expectations of the customers, they are welcome to engage another company. There are plenty of web development companies with WordPress website expertise.
What happened to Kerryn
Kerryn's first Lifeology website was built 4 years ago. She partnered with us. Her business now has 9 employees and is growing. Lifeology has 3 websites now – lifeology.com.au, lifeology.coach, and lifeology.careers.  
Kerryn knew from the start that a website is an iterative effort. We write copies in addition to web development and design. Each iteration gives better clarity to the business proposition, streamlines the target audience, and makes a better offer on the website. When the offer is good enough, it will generate leads. 
The website has gone through 3 major iterations. Each version conveys her business offer with greater clarity. It attempts to make better offers and capture leads. 
Kerryn also recognizes the need for digital marketing. Marketing is an ongoing effort. Like building a website, digital marketing requires fine-tuning to get it correct. She is highly involved in the messaging to the point where the partnership became a Do With You (DWY) model. This is great because then she can translate the same message to the rest of the team.
If you need help
Choosing a website developer can be a difficult decision. If you have concerns or questions, click here, and let's meet up online.
Create a website that generate leads
Don't settle for a website that has no visitors. Make it your Internet sales tool that generate business leads. Be intentional and take action now.